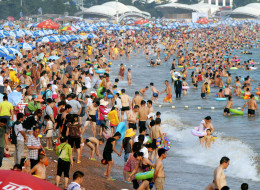 Last year was tied for the fourth-warmest year on record around the world.
The National Oceanic and Atmospheric Administration on Tuesday released its global temperature figures for 2013. The average world temperature was 58.12F (14.52C) tying with 2003 for the fourth-warmest since 1880.
NASA, which calculates records in a different manner, said Tuesday that 2013 was the seventh-warmest on record, with an average temperature of 58.3F (14.6C).
Both agencies said nine of the 10th warmest years on record have happened in the 21st century. The hottest year was 2010.
NOAA: World in 2013 Was 4th Hottest on Record