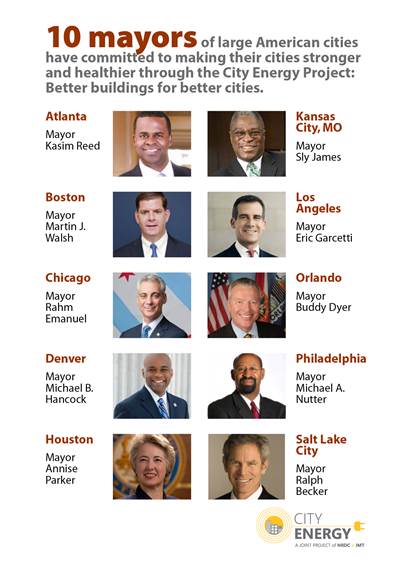 The mayors from 10 major U.S. cities Wednesday announced they will undertake a united effort to significantly boost energy efficiency in their buildings, a move that combined could cut as much climate change pollution as generated by 1 million to 1.5 million passenger vehicles every year, and lower energy bills by nearly $1 billion annually.
Buildings are the largest single source of U.S. carbon emissions, representing 40 percent nationwide – more than either the transportation or industrial sectors. That number is even more dramatic at the city level, with more than half of carbon emissions in most U.S. cities coming from buildings. Much of the energy these buildings use is wasted. Improved efficiency would reduce costs and pollution.
The Kresge Foundation is supporting the multiyear City Energy Project in partnership with Bloomberg Philanthropies and the Doris Duke Charitable Foundation. The project is an initiative of the Natural Resources Defense Council and the Institute for Market Transformation.
Mayors from 10 Major Cities Unite to Cut Climate Pollution from Buildings